Happy Birthday Eastgate!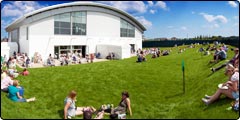 Eastgate was officially opened in December 2013 and is now one year old. A lot has happened in the last year and it has simply flown by.
We've run everything from conferences to coffee mornings, training sessions to toddler groups, bridge clubs to business breakfasts and a whole load more.
Eastgate is not only NKCC's home, it's also a multi-purpose events venue for the local community and businesses. The number of activities and events running at Eastgate continues to grow and 2015 will be a busy and exciting year.
If you would like to know more about NKCC, Eastgate and the activities running in it please get in touch - we would love to hear from you.
Last Updated on Wednesday, 07 January 2015 16:02