Eastgate is officially opened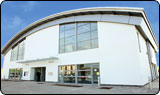 On Friday 6th December 2013, at a ceremony attended by the local Mayor and Mayoress and some of our friends and supporters, our good friend and local MP, Adam Holloway, officially opened our new building, Eastgate. After a period of fitting out we plan to commence activities at Eastgate in early 2014.
The building will be the new home for NKCC, a multi-purpose events venue and a base to serve the local community and others beyond.
As we see our dream becoming a reality we think not only about what Eastgate will enable us to do now, but also about what opportunities lie ahead. The adventure continues...
If you would like to know more about our building project or would like to find out more about NKCC and be part of this adventure please use the links below.
Last Updated on Saturday, 11 January 2014 18:00